SUMIT (Hangul: 썸잇) is the official fan club name of LIGHTSUM. It was officially announced on September 17, 2021.[1]
Name Meaning
The name SUMIT means that LIGHTSUM and their fans become one through the medium (sum) of LIGHTSUM (it).[1]
Memberships
1st SUMIT - The Best Birthday Ever!
On January 24, 2022 Cube Entertainment announced the first membership recruitment across LIGHTSUMs social media accounts.[2] From January 25 to February 25, 2022 one could buy the membership kit "The Best Birthday Ever!" which included a one year membership.
Membership Benefits
Numbered Membership card
Membership badge in the U CUBE App
LIGHTSUM Official Fan Club SUMIT 1st Membership Kit
Opportunities to join official fan club events
Opportunities to join various events
Special benefits
For the kit package preview and teaser photos of the members please visit the Gallery.
100 Day Messages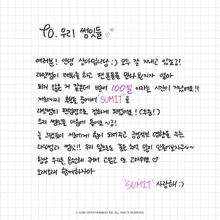 To. Our SUMIT ♥️
Everyone! This is Sangah :) How are you all doing?
I don't think it's been long since LIGHTSUM debuted and met the fans, but it's already been 100 days!!
Among the potential candidates, we chose SUMIT as the fandom name of LIGHTSUM. (Ta-da!)
Do our SUMIT like the name~?
Like always, "LIGHTSUM" and "SUMIT" give each other strength and positive influence!! Let's continue to make good memories together~~
Thank you for always supporting us. ♥️
Let's be together for a long, long time.
SUMIT I love you :)
Translated by

@moonlightsum_
Gallery
References